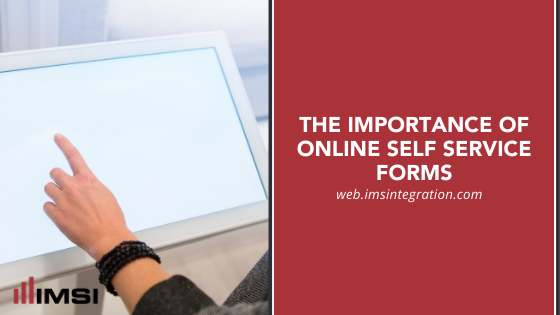 The shift to contactless consumer solutions has not just shown how quickly businesses can adapt. It has also shown how important it is to have wide-ranging, quality self-service options.
Online banking, previously a word used to describe the ability to complete financial transactions, is evolving to reflect a fully digital customer experience. Funds transfers and bill payments were a great start, but more and more, users want to be able to perform 100% of their credit union tasks digitally.
Online self-service forms are a key component in that evolution.
From Payment Apps to Communication Apps
Credit union websites and mobile banking apps are changing. Previously, the main functions of this technology were for customers to view account balances or move money from one account to another.
With the COVID-19 crisis, solutions that we thought were years away had to be implemented virtually overnight. And rather than stopping that momentum, it's time to harness that power to transition even more functions to online platforms.
The teller window experience has started going digital. Banking apps will need to start offering customer service digitally – using chat functions and online self-service forms.  
Self Service Forms – What Are They and What Can they Do?
As more complex member requests are processed digitally, having a wide array of online self-service forms is essential. In the past, one-on-one support has been the standard. But now, 81% of all customers prefer having the ability to "do it themselves" using online self-service over talking to a live representative when they encounter issues.
Online self-service is contact between a credit union and its members without involving a live credit union employee. Members can and want to take care of themselves using your credit union's software and resources.
Self-service forms are customizable solutions designed to incorporate your credit union's brand and image and to collect information required to fill member requests.
Some examples of tasks online self-service forms can help with include:
ATM/Debit – Address change, Delete Card, New Card, Reorder, Research Requests

Auto Transfer

CD Rollover Request

Checking Conversion

E-Certificate Request

HE Packet

Lost Card Notification

Reorder Checks

Savings Bond Request
Benefits of Self Service Forms
Online self-service forms offer a range of benefits for your credit union and your members.
It saves your customer service and support representatives' time. By processing straightforward or standard requests through online self-service forms, your members are able to steer themselves through many processes that would previously have needed a credit union employee's help.
Saving that time also means you are saving money. If you give your members the tools to answer their own questions and complete tasks online, your staff will be fielding fewer calls, tickets, and email requests.
Customization is key. Every one of your members wants to handle their information and their money differently. Having a good volume of online self-service forms can help your members do their banking the way they want to in regards to account details, payment methods, and more. Handing these tools to your customers also empowers them and gives them a sense of ownership and control over their finances.
It also keeps them engaged – which means traffic to your credit union's websites and apps will increase. Driving traffic to your website also increases the chance that your customers will go on to explore further. You now have their attention on your site and they will view and take advantage of your new products or purchase additional services from you, as well as contributing to your online community by following news, events, and social media pages.
IMS Integration Can Help
At IMS Integration, we make online self-service forms to help create tailored software solutions for your credit union. Contact us to learn more about how our member-facing web solutions can help you.