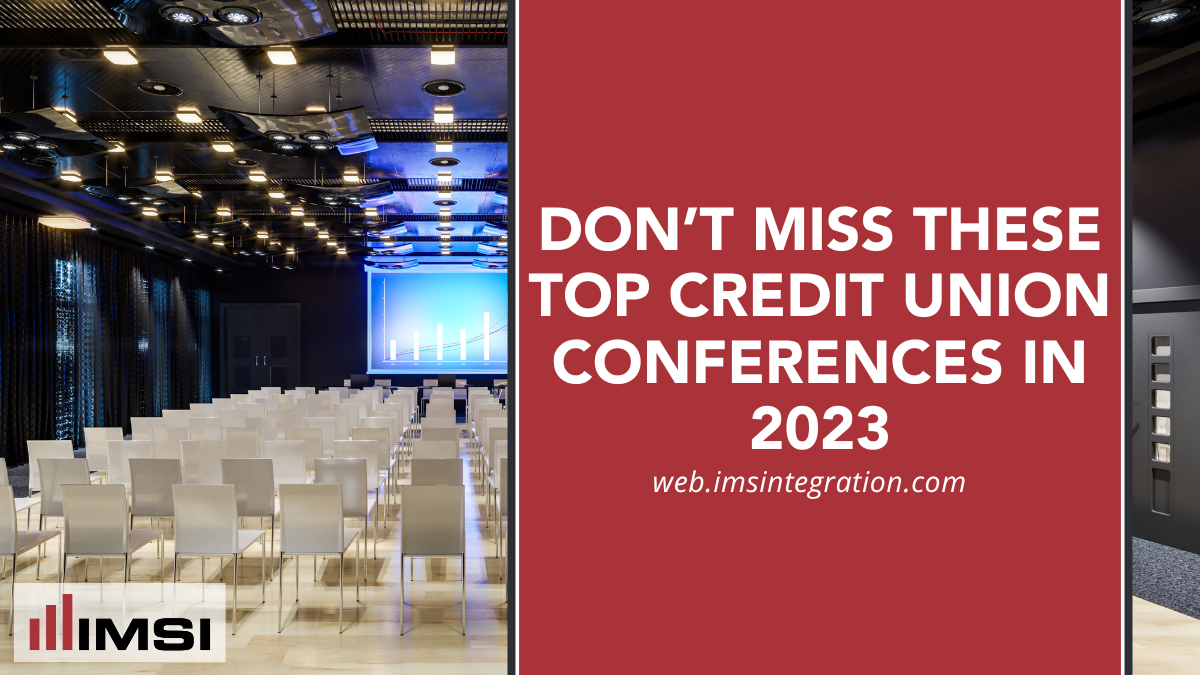 So much has changed since the earliest days of the pandemic, in our lives and in the credit union industry. The rise of digital transformation, branch sharing, and so much more have shaped how your members interact with your credit union, as well as how your credit union does and should do business.
And now that we're settling into the days of the "new normal," we are comforted that many things look the same now as they did before 2020, like full in-person and online conference schedules that allow us to connect with industry peers and experts.
With that, we wanted to kick off the new year with some great insights about the top credit union conferences that will be taking place this year.
The CUNA Marketing & Business Development Council conference is being held in Orlando, Florida on March 26-29, 2023, and it will focus on addressing relevant and impactful trends in the credit union industry right now.
If credit union marketing is a topic you are looking to dive into this year as you are looking for the best conferences for your team and leaders, you should also consider the MAC (Marketing Association of Credit Unions) 2023 Conference as well, which is being held in Nashville, Tennessee from May 22nd to the 25th.
June 27-30, 2023 is when NAFCU is having its 2023 conference in Long Beach, California. This conference is perfect for credit union CEOs, presidents, executive management teams, board members, and supervisory committee members. Their daily general sessions will cover a wealth of topics that will be engaging and informative for any credit union professional looking to learn more about the industry we all love.
Some of the things you'll be doing include learning about emerging industry trends, discussing actionable insights like how to attract and retain quality talent, and diving into a wide array of topics like cryptocurrency, AI, payments, growth strategies, and more.
For credit union leaders looking to focus on growth in 2023, NAFCU is also holding a Strategic Growth Conference in Nashville, Tennessee in March.
From July 23rd to the 26th, in Vancouver, Canada, the 2023 World Credit Union Conference is being hosted by the CCUA (Canadian Credit Union Association) and the World Council of Credit Unions.
This unique conference has a global attendance roster, which allows you to network with people from all over the world while you discuss the similar (and differing) credit union trends, struggles, and techniques that make our industry tick.
There are general sessions and 4 concurring breakout sessions per day, with lots of opportunities to network and learn from your CU peers all over the world.
We wanted to offer a variety of learning and networking opportunities in this article, and that's why we also wanted to feature the Expand Expo 2023, a conference more geared toward training and development in the CU industry.
This conference is scheduled for September 17-21, 2023 in Hershey, Pennsylvania and is hosted by Horizon Federal Credit Union. You will get to learn about how to create loyal members, connect with others, develop a work-life balance, and increase performance through emotional and behavioral change. You can learn more about this 2023 conference here.
IMSI: Your Partner in Those Big Post-Conference Plans
For more 2023 conference information, you can check out CU Conferences and NAFCU's Conferences page.
You can also learn more about upcoming credit union conferences by visiting the Conferences and Events page from Credit Union Executives Society. It has tons of educational and networking opportunities listed, both online and in person.
Your credit union deserves an online stage that is worthy of the best conference hall and reception. And IMSI has a wealth of great services to help you put your brand's best foot forward.
Our well-honed industry experience coupled with our technical expertise in web development is the perfect combination for your next credit union website project. Whether you are looking to add more self-service forms or landing pages to your site, or you are looking to refresh everything from the homepage on down, check out our custom web development services and contact us for more information.
And don't forget to let us know what 2023 conference you're most excited about and why! Follow us on social media and here on our blog page for insights about the credit union industry, tips and tricks, news, and more.