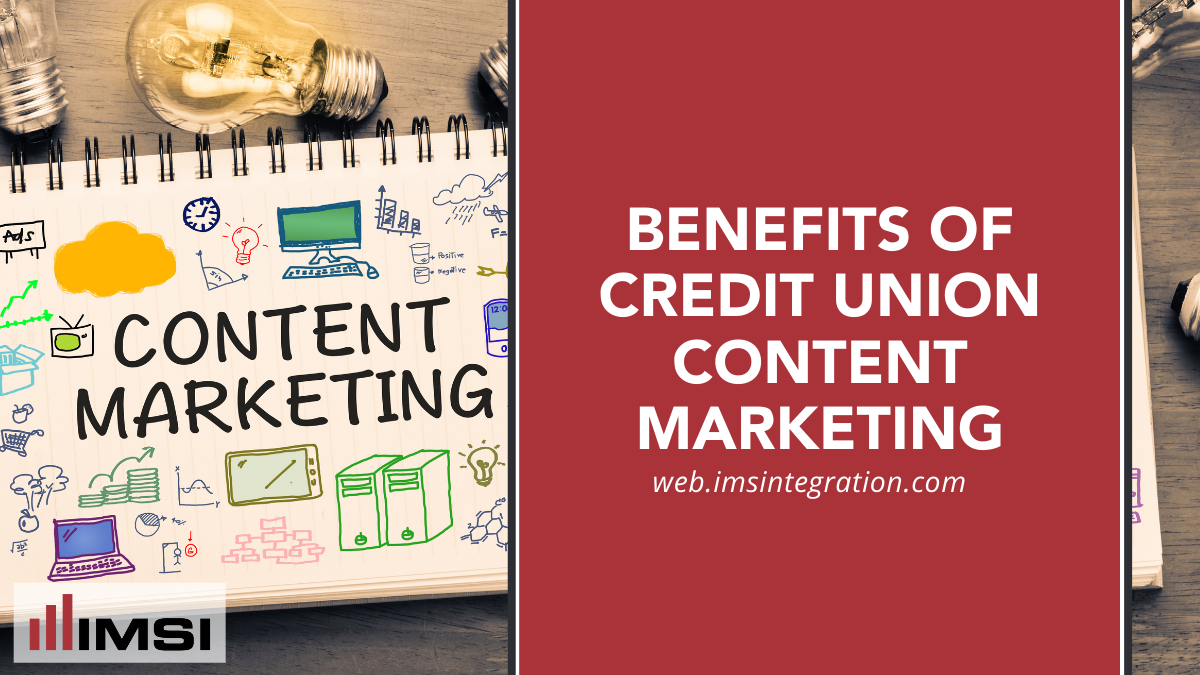 Credit unions occupy an interesting space in the financial industry. Many of them are smaller, local businesses, but there are others that operate on a national or global level. Regardless of the size of your credit union, there are many reasons why you should be using content marketing to promote your CU's services.
Content marketing is one of the most popular forms of marketing right now. But what is content marketing? How do you create effective marketing content? How does it benefit your credit union?
Here are some of the top benefits of credit union content marketing.
What Is Content Marketing?
Though the phrase "content marketing" seems to be a new buzzword, the practice has been around since the 1700s. Historical pamphlets, almanacs, and other written information used to create a narrative or promote an idea or business are all content.
In today's terms, content marketing is a strategic approach to marketing that focuses on creating high-value content. The goal of this content is to attract or retain a specific audience, and to use that audience to create or grow your customer base.
Content includes everything you say to your customers, whether it's through email campaigns, social media, newsletters, webpages, and more.
Even if your credit union doesn't have a designated content marketing strategy, you are likely still using content marketing in your overall efforts.
Ways to Amplify Your Credit Union Content Marketing Strategies
The Credit Union Times shared an article about new ways for credit unions to use content marketing.
Their first suggestion includes creating a podcast. Podcasts are a great form of content, especially if you are educating an audience on complex or in-depth topics. Credit unions can benefit from podcasts in many ways.
First, it's an easy educational resource to offer. You can invite your board members to speak about certain financial topics, including episodes about budgeting, securing a home or auto loan, and much more.
And second, the content can often be evergreen. That means no matter when your members listen to it (whether it's today, tomorrow, or next year), the information within the podcast episode is still relevant. This is much different than other forms of content, like social media posting, for example.
Another great form of content is blog articles. Another great educational opportunity, you can use a credit union blog to share industry or local news, teach members about your products, services, and other insights, and so much more.
There are hundreds of different forms of content, and many of them can be leveraged to share your credit union's mission, insights, and services.
New Content Freshens Up Your CU Website
The primary source of brand content for your credit union is your website.
Your website is the face of your brand. It tells potential and current members everything they need to know about who you are and what you do. And you would be surprised how quickly website content can look or sound outdated.
The content on your website should represent your credit union as it is today. Have you updated or changed your offerings? Created new initiatives or educational resources? Have you done some analysis of your website traffic and found that certain pages are performing better than others?
You can use these insights and ideas to start working on better, more optimized content. And don't forget about SEO (search engine optimization). Even the best website in the world needs to be discoverable, and most people head to search engines when they are looking for answers or solutions to their questions and problems.
If you are in a period of high transition in your credit union, revamping your website might need to be done several times in the next few years. Or if you are well-established and running consistent programs that have great website content already in place, an overhaul may only need to take place after several years, to keep the site from looking dated.
Optimized Content + Great CU Solutions = Success
Credit union content marketing is another tool that can help boost your brand. This means more website and social media visitors, and, ultimately, more members. But your content has to be talking about the products and services you offer that make your members' lives easier.
Luckily, IMS Integration can help augment those offerings with elegant, member-facing solutions that include:
Check out our website for more information, or request a consultation today.