Why should credit unions adopt and promote eStatements? Who will benefit from persuading members to enroll? With this blog post, we will explore all the benefits of adopting eStatements for both credit unions and members, as well as how eStatements are implemented. 
How do eStatements work?
eStatements are your typical account statements but in the form of an electronic document instead of a paper one. They may look exactly like their paper counterpart or you can choose a redesigned layout optimized for that format.
Electronic statements allow financial institutions to follow the given regulations that require them to send customer account statements, while cutting costs related to printing and mailing. These statements also serve as a new platform for supporting your bank's brand and efficiently sharing marketing messages with members.
Benefits Of eStatements For Credit Union Members
Electronic statements provide the same functionality to members but with added convenience and faster distribution. Instead of waiting for mail to arrive, customers are immediately notified through e-mail, SMS or push notification on their mobile device as soon as their eStatement is ready.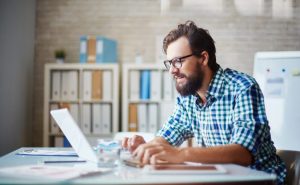 Members can easily review eStatements from any computer or mobile device. They can quickly go through their transactions and reconcile their account from their current location, wherever it is. Instead of having to manually file paper statements, your members' eStatements are automatically saved online and can be retrieved electronically any time. 
Some members prefer to receive both print statements and electronic ones. Others manually print their electronic copies. Regardless of their preference, you can easily integrate eStatements into your members' current banking experience. The information within each format is the same. You can also include additional marketing messages and special offers within eStatements in either HTML or PDF files.
Benefits Of eStatements For Credit Unions
The primary benefit of eStatements to credit unions and other financial institutions is the significant cost savings it offers. Each piece of mail sent to a customer has an average cost of $9. Adopting eStatements can result in savings of up to two-thirds of the original expense. 
As previously mentioned, eStatements also provide additional marketing opportunities. It is an effective platform that will help you establish your brand and advertise your marketing promotions. It also cuts down on costs to place marketing messages on electronic statements instead of printing paper inserts or printing more pages to your paper statements and envelopes.
An underrated feature of electronic statements is that you can easily track and review reports based on user activity. You can also receive instant notification if email addresses are undeliverable. With paper mailers, you aren't able to determine how many customers actually opened it or if they threw it away as soon as they received it. More often than not, you won't even know if it was successfully delivered.
Framing your eStatement adoption efforts as a way for your credit union to support sustainability helps convince your customers to make the switch. It also adds to your institution's credibility and appeal, increasing members' trust and making it easier for your institution to be their first choice for other products and services, such as loans. 
Every credit union needs to send statements. With IMSI's Make A Statement, you can now streamline the process with electronic statements and save time, money and significant resources.
Let's talk about optimizing the creation and distribution of your credit union's statements and notices: web.imsintegration.com/contact/