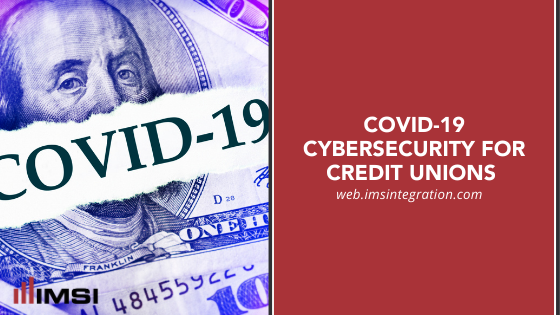 The CARES (Coronavirus Aid, Relief, and Economic Security) Act has helped millions of Americans weather the COVID storm, but it has come with a downside. As more than $2 trillion made its way to businesses and individuals, cybercriminals saw an opportunity to make some big paydays for themselves.
Cybersecurity in 2020 is even more important than it was in past years because financial institutions can't afford to be breached or hacked during these uncertain times. But how can credit unions fight back?
Old Fraud, New Tricks
"New account fraud, identity theft, cybersecurity risks, imposter and money mule schemes, and mobile banking application fraud are all on the rise as a result of the opportunities related to the ongoing COVID-19 pandemic," says Rodney Hood of the NCUA.
Here are some helpful cybersecurity tips for protecting your credit union and your members.
Increase Communication Security
With many Americans working from home, the need for good communication increases. Tools like Zoom and GoToMeeting are fostering company communication, but these platforms are not without risks. When creating meetings on these platforms, there are lots of options for increasing their cybersecurity.
Update each meeting's privacy and security features to prevent what's known as "Zoombombing" – when outside parties or unauthorized persons join a meeting. Change your meeting IDs consistently, mandate that all meetings have passwords, and don't use the same password over and over. You can also enable the "waiting room" feature where those who have just tuned in to the call can stay until you or another meeting leader gives permission for them to join.
Employee Education
The more trained eyes you have, the easier it is to stop fraudulent activities before they do widespread damage. During those Zoom meetings, set aside some time during every call to discuss cybersecurity.
Ask your staff if they have noticed any unusual account activity or suspicious emails in their inbox. Share weekly tips on how to spot phishing attempts, phony email accounts, and unsafe links. You can also create educational material and discussions around specific topics like we've done in the section below.
Keep an Eye Out for Unemployment Insurance Fraud
Though unemployment numbers are decreasing, there are still millions of Americans filing for unemployment insurance benefits every week. And with COVID-19 continuing to impact the global workforce, scammers are jumping at the chance to over-collect on these benefits or steal them outright.
This is a great opportunity to educate your employees and members on the red flags:
An account that receives unemployment benefits from another state with no explanation, or from multiple states

An account that receives the benefits of more than one individual

New accounts being opened with no transactional activity that is suddenly used to collect unemployment insurance benefits.
Using resources like the NCUA and other trusted reporting sites to create a "profile" for fraud can help you and your staff recognize these red flags. You can do this with each threat or type of fraud, encouraging awareness and prevention of these issues.
Comprehensive Member Education
One of the greatest assets a credit union offers to its members is educational resources. Schedule some time to create online classes or educational materials that address these new cybersecurity risks. It's also a great time to highlight past fraud prevention and financial literacy resources, which will act as a refresher on the topic and help your members find these resources later.
The more people (members and staff) who are educated in fraud prevention and cybersecurity solutions, the better.
IMS Integration Can Help
At IMS Integration, we make solutions to help you save time and protect your members. Contact us to learn more about how our member-facing web solutions can help you better serve your members.