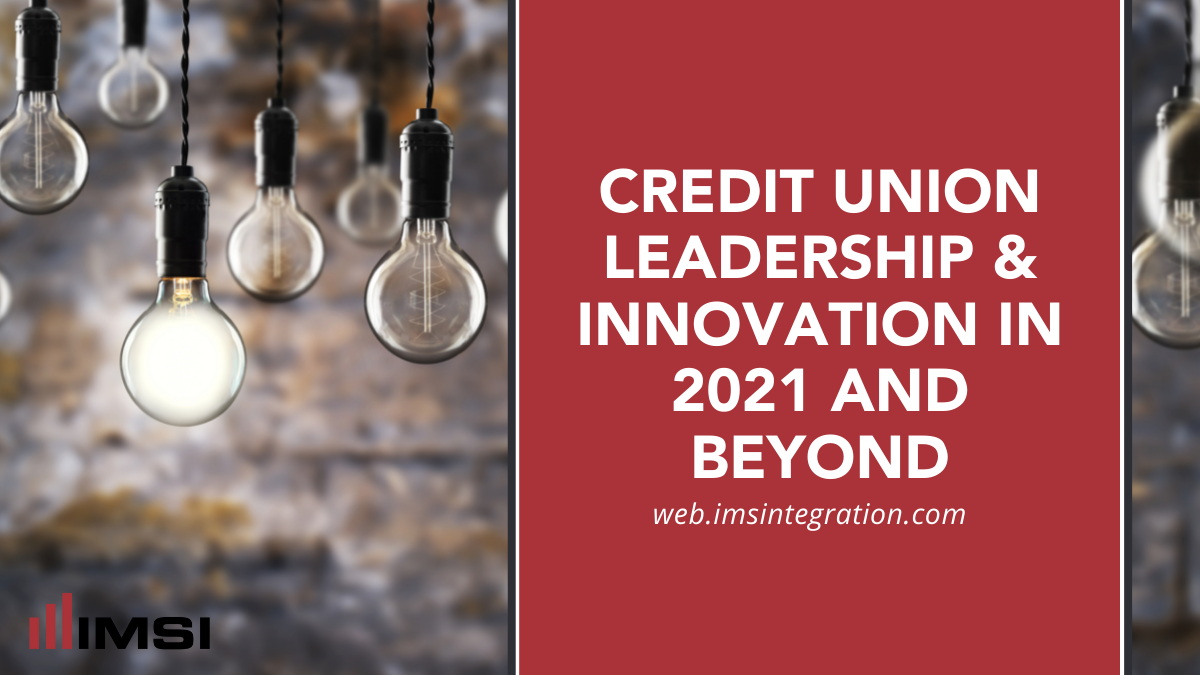 Innovation is often seen through the lens of cutting-edge technology, but the cornerstone of anything innovative is the creativity to start or improve existing ideas and processes. And credit unions across the U.S. were able to grow their membership by 2.8% between year-end 2019 and September 2020. Far from the perception of antiquity that seems to stick to them, credit union leadership and innovation are paving the way to a bright future.
Fostering Creativity through Leadership
If innovation stems from creativity, you need creative leaders in your credit union. The role of a leader is said to account for 67% of the influence in determining if the organization will be creative.
But how does a leader foster creativity? In short, you foster an environment where creativity can thrive. Your leaders should be trained in creativity methods – prioritize the idea of showing your teams that creative ideas are more than just encouraged, they are tested and executed. Creating a space that allows for feedback and testing on new ideas shows your managers and employees that they have the power to affect change on every level. And once your staff feels like they can be vocal, they'll continue to contribute to those conversations.
Spearhead a Competition
Sometimes, you can find creativity when you think outside the box. Many companies, large corporations with even larger social media followings, often run contests to drum up creative taglines or content ideas. You can do that within your own teams, too.
Rather than simply relying on your marketing team to shoulder all creative burdens, invite other departments and create a friendly competition out of creating a new logo, tagline, or advertising campaign. Idea-based competitions can take many forms and garner surprising results.
Don't Give Up
This embracing of creative ideas requires a fair amount of buy-in, as well. When you take on these new ideas, you have to keep them in place. Most new programs need time to be implemented, and then understood and accepted. This is especially true if your new process also involves your members.
Investing in innovative ideas means investing in the time it takes to see if the change will net a positive outcome.
Creative Problem-Solving Process
Practice makes perfect, and CUManagement offers a 4-step creative problem-solving process:
Clarify the problem

Generate ideas. The more, the better.

Develop solutions from the best of your ideas.

Plan for action.
Once you've created a process that works for you and your teams, you can build on these 4 steps and tailor it to give you the best outcomes.
Embrace Failure
Some of your innovative ideas will fail. It's inevitable. And how you and your team leaders handle that is paramount to fostering a culture of innovation.
When those failures come, it's important to practice humility and forward-thinking. According to Meistertask, when team members consider their boss a humble leader, this creates "psychological capital," which increases feelings of hope, optimism, and resilience.
Like any team effort, focusing on solutions and adjustments over blaming or apologizing allows for growth and continued momentum.
Professional Services for Innovative Credit Unions
IMS Integration knows credit unions from the ground up. We have a range of professional services that are customized to you and your credit union. From custom web development, to UI and batch scripting, to custom electronic forms, IMSI can help you implement innovative solutions that will better serve your members and create opportunities for your business.
Request a consultation today for more information about our credit union solutions.