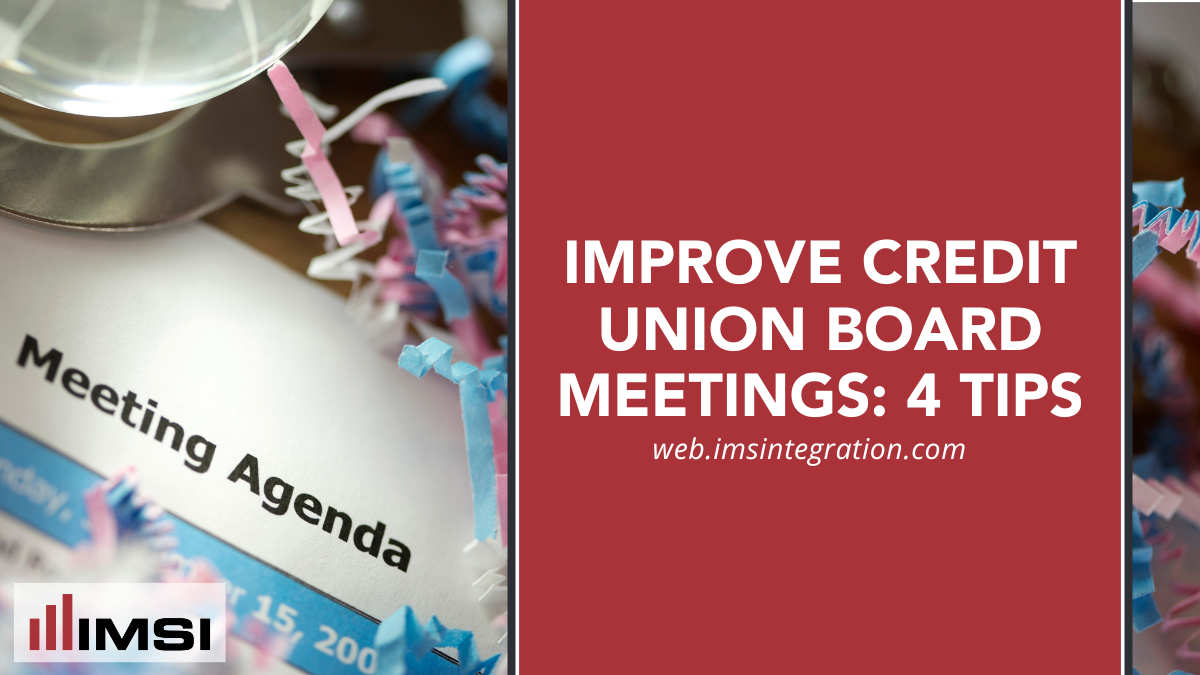 If you are a credit union leader or a member of a credit union board, chances are you've been to at least one board meeting and know how important it is for the board to have effective meetings. But how can you ensure that your board meetings are successful?
Effective board meetings are an important part of credit union management. They provide a forum for discussing important topics and making decisions that impact the entire organization. But in order to get the most out of these meetings, it's important to make sure they're organized and productive.
Let's discuss some tips on how to have better credit union board meetings. We'll look at things like setting clear agendas, encouraging participation, and more.
Tips for Improving Productivity to Facilitate Effective Board Meetings
Credit union board meetings are just as easily derailed as a daily or monthly project meeting, and Hales Property Management shared some great and targeted tips for staying on task:
Define the purpose of the meeting.

This makes for more organized board meetings from the get-go.

Start and end your credit union board meetings on time – this helps keep your directors and attending staff engaged and on task so as not to waste their own – or anyone else's – time.

Keep the discussion focused.

Once a topic of discussion is brought forth, follow it through and keep notes on any other issues that come up within the conversation, rather than letting a tangential conversation derail your progress.

Encourage input from all attendees.

It's important that everyone feels heard.

Take breaks as needed.

Sometimes a short break can help get you back on track faster than a lengthy (or heated) debate will.

Be mindful of body language.

For those speaking and listening, it's important to pay attention to your own body language as well as the body language of those around you.

Take notes.

These meetings are often task-oriented, and keeping notes ensures that all of the issues that were discussed will find a successful conclusion.

Follow up after the meeting

. Part of the note-taking should include the action items that each attendee (or committee) will be responsible for between now and the next board meeting.

Encourage feedback.

Sometimes, sharing every opinion isn't feasible, and certain ideas can get missed. It's important to keep those lines of communication and trust open so that concerns and recommendations can be passed back and forth between meetings.
Meeting productivity also improves when you do a few things to help manage the attendees' expectations. For example, you should always send out a credit union board agenda beforehand – and not just one day before the meeting. 
We'd recommend sending the meeting agenda at least one week in advance – this gives your board and guests time to include important items that may have been overlooked. It also creates expectations for the meeting topics – even if you have to include generic topic placeholders (like "Director A will discuss recent marketing efforts" or "Guest speaker will be Helen the CPA").
Create Space for Questions and General Review
A board meeting shouldn't feel like a punishment. While it's not a party either, it's important to create space for new and existing board members and meeting participants to share openly.
This means reserving time in the meeting for board members to share general news, interesting articles, personal achievements or events, and other non-discussion items.
This is a great way to keep your directors engaged without creating a feeling of having extra homework assigned. If a board member finds an interesting resource, they can simply share it with the room and those who are interested can follow up on the resource in their own time.
It also means creating space for questions. Every board is different, and each director has different skills and areas of expertise. It's important to remember to always allow new members the opportunity to ask "beginner" questions, especially pertaining to things like budgets and financial information.
Be Clear about Renewal & Succession Planning
Choosing to simply wait until Directors on your board want to leave is not a strong succession plan. Credit unions are highly susceptible to changes in their CEO and directors lineup, and it's important to prepare for these changes early.
It's important to share guidelines that show exactly what the current board is responsible for when it comes to recruiting, developing, and retaining those in key positions. the credit union board agendas can shift as needed, but it's easier to alter a plan than to go in without one.
In January 2022, the NCUA board approved a proposed rule on succession planning. The proposed rule requires the boards of directors at federal credit unions to "establish and adhere to processes for succession planning." However, whether you are a federally-chartered or state-chartered credit union, it is wise to create these plans in order to maintain your board's effectiveness during periods of transition.
Improve Board Meetings with Better Financial Conversations
An article entitled, "Better Board Financial Conversations" was featured in the fall 2022 issue of Credit Union Magazine.
In that article, writer Darla Dernovsek shared several ways to keep your next CU board meeting on track when it comes to tackling the hard financial discussions that will arise.
The first tip here is to keep past performance in mind, but don't let it overtake the conversation – we can't go back and fix things, we can only use the information we have to create better, more successful future initiatives.
The article also shares several poignant questions that may help to drive the conversation forward, rather than continuing to discuss things in a loop, creating identical conversations over the years and decades. Those questions include:
What do you want to get out of meetings?

 

What type of discussion do you want to occur, and on which financial and strategic topics? (This one is important, as board meetings can often veer too far into the "big picture discussion" without making any incremental changes to help create and sustain some forward momentum.)

What engagement do you want to see in your meetings? You can help determine this by creating board meeting requirements for certain positions and attendees.

What problems are you trying to solve?
These questions are great for getting your CU leaders to think about the core purpose of each meeting and your board's engagement as a whole.
The future isn't as easily read as it once was – in a post-pandemic world, it's important to look past the numbers and projections to continue to offer your members the best experience based on their current desires and needs.
Your Credit Union Board Meetings Get Easier When Your UX Improves
We're in a world full of short tempers, quick answers, and customer service issues. Because of that, your website is a great place to start creating good momentum for your next credit union board meetings.
Boost member numbers with IMSI's online account opening, increase loan stats with our Web Loan Applications and enhance your Keystone core with our Corelation solutions. IMSI is your partner in fine-tuning your website for great things, both for members and for CU staff.
Contact us today with questions, requests, and more. We'd love to chat with you about how IMSI can help your credit union reach its goals this year.