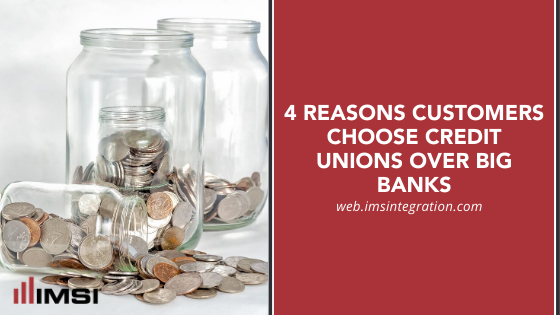 Sometimes it feels like big banks have all the power and resources to offer much "more" than local credit unions, but that is not the case. In a world where small businesses are gaining momentum, customers are looking for better deals and hometown service. Here are four reasons why customers are choosing credit unions over big banks.
Customer Service
Big banks often have cumbersome systems and processes for answers to even simple inquiries like "What is my loan balance?" Customers know it is a waste of time to dial through all the automated phone tree selections. They also know saying "Customer Service" may get you to a live person, but the odds that person will find a solution are slim to none.
Credit unions, as non-profit organizations, are focused on giving their customers the best possible experience. Many credit unions serve specific geographic locations and local employers, too, so they have a better knowledge base on what services are most valuable to their members in the area.
Educational Resource Offerings
Do you know the saying, "read the fine print"? Many big banks create rigid programs for things like applying for and paying loans, opening and closing accounts, and other basic offerings. They also have a bad reputation for leaving customers in the dark on certain protocols within those programs, including late fees and extra fees for paying off a loan early or for closing an account before a certain amount of time has gone by.
Nearly all credit unions offer free or inexpensive classes on many common topics ranging from basic budgeting to how to start a business or create a balance sheet. CUs want their members to have the knowledge they need to make informed decisions about their finances.
More Flexible Lending Practices
Big banks are very strict in their lending practices. Local branches often have to send loan and other financial information out to a corporate liaison. Aside from the extra time this takes, large banks also do not offer any flexibility on interest rates, many offerings are considered "templated" – there is a written step-by-step protocol for each and every interaction customers will have with them.
Credit unions do their utmost to work with members regardless of their financial situation. This means that many times, interest rates are lower. Credit unions are also more likely to make exceptions that will allow a higher-risk member to obtain the financial aid they need.
Online Services
Technological solutions continue to create faster, more customizable, and more affordable options, which means your credit union can operate at national bank-level efficiency, all while staying committed to a customer-first business model.
Marketing and expanding your CU's online services offerings can show potential customers that your business's smaller size doesn't mean fewer options and solutions for their financial needs. Many people say they are unsatisfied with their large bank's apps and online offerings. Creating more user-friendly approaches is easy when you can customize your offerings to fit your credit union.
Optimize Your Offerings
Credit unions are integral to the communities they serve, both for individual customers and small businesses. Offering those customers big bank services at hometown prices is a great way to stand out in your credit union's local market.
Let IMS Integration take care of your software solutions. Contact us to discuss your credit union's software upgrade options.