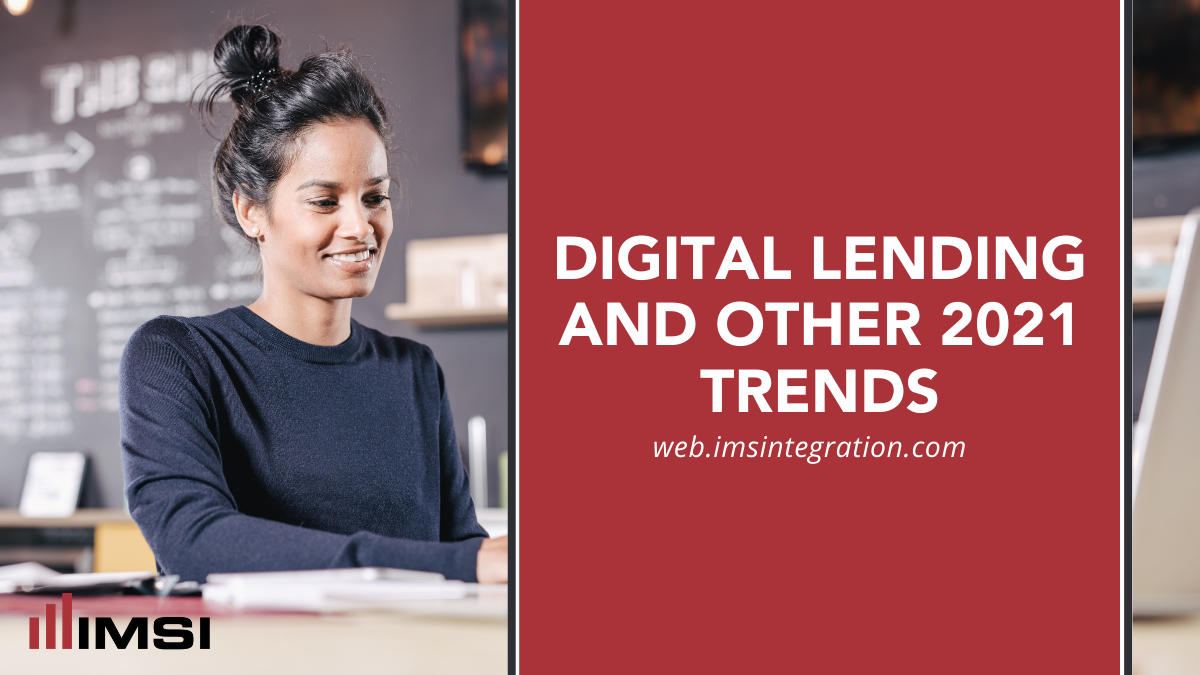 Your digital banking solutions are under scrutiny, your member expectations are higher than ever, and your credit union has just come out of one of the toughest years in modern history. Let's discuss how you'll get a leg up this year by looking at the top digital and lending trends set to dominate 2021.
Until recently, banking institutions (and credit unions especially) were taking a conservative approach to digital transformation. But COVID-19 showed up and wrecked a lot of plans and protocols in a short amount of time, leaving financial leaders scratching their heads.
However, the new normal is here, and it's not going anywhere. So what trends should you, as credit union leaders and employees, be pushing in the new year? Let's break them down.
Digital Lending Solutions
Lending solutions are going to be a hot topic this year. With the amount of financial stress Americans and small businesses have been under since last March, expect to increase small ticket loan offerings. Focusing on low-dollar, short-term, "buy now, pay later" loans – often with zero interest rates – can fill some of the holes left by the 2020 economic downturn.
Lending also needs to go digital. This includes self-service and online options. With or without COVID, Millennials and Gen Z prefer to handle as much of their life and lifestyle as possible through remote channels.
It may seem strange, but these digital darlings are more likely to patronize your credit union if they never have to step foot inside it! This means creating and managing these online offerings as well as increasing machine learning and AI (artificial intelligence) capabilities.
There are many advantages of digital lending:
Optimized User Experience – digital lending programs put the power back in your customers' hands.

Increased Efficiency – digital lending also streamlines the lending process and creates shorter turnaround times.

Digital Channels Mean More Analytics – when all of your lending information is stored and handled digitally, it gives you the opportunity to analyze all that data and create intelligent, tailored banking solutions for your members.
Small Business Relationships
Another focus area in the banking industry this year will be recapturing small businesses. Credit unions already set themselves up for success in this area last year by participating in PPP (Paycheck Protection Program) loans. The program helped many small businesses keep their doors open during this trying time. It also created an avenue for small-to-midsized banks and credit unions to lend to businesses that were ineligible for other big bank-sponsored programs.
'Financial Health' Focus
Financial health is going to be a heavily leveraged topic in 2021 as well because the COVID-19 pandemic has shown us all how badly financial unpreparedness can cripple our lives and economy.
Credit unions are in a great position to tackle this topic, however. Bigger banks tend not to offer comprehensive or tailored financial wellness and education resources. Credit unions have been doing that for decades already.
To take advantage of this trend, banks and credit unions will take advantage of virtue-signaling efforts to craft customer-facing messages that are more socially conscious.
These empathy-based messages will also cater to the direction of the changing White House administration.
Start Your Digital Lending Journey with Web Loan Applications
IMS Integration can help you create a seamless transition to digital lending and other online services:
Infuzion

: This powerful tool was developed to streamline complex functions without spending hours developing scripts.

Web Loan Applications

: Loans are critical to your credit union's success. Enhance your member experience by implementing our online loan applications system, which tightly integrates with KeyStone core.
If you want to explore our offerings further, or you have questions about our solutions, contact us today.