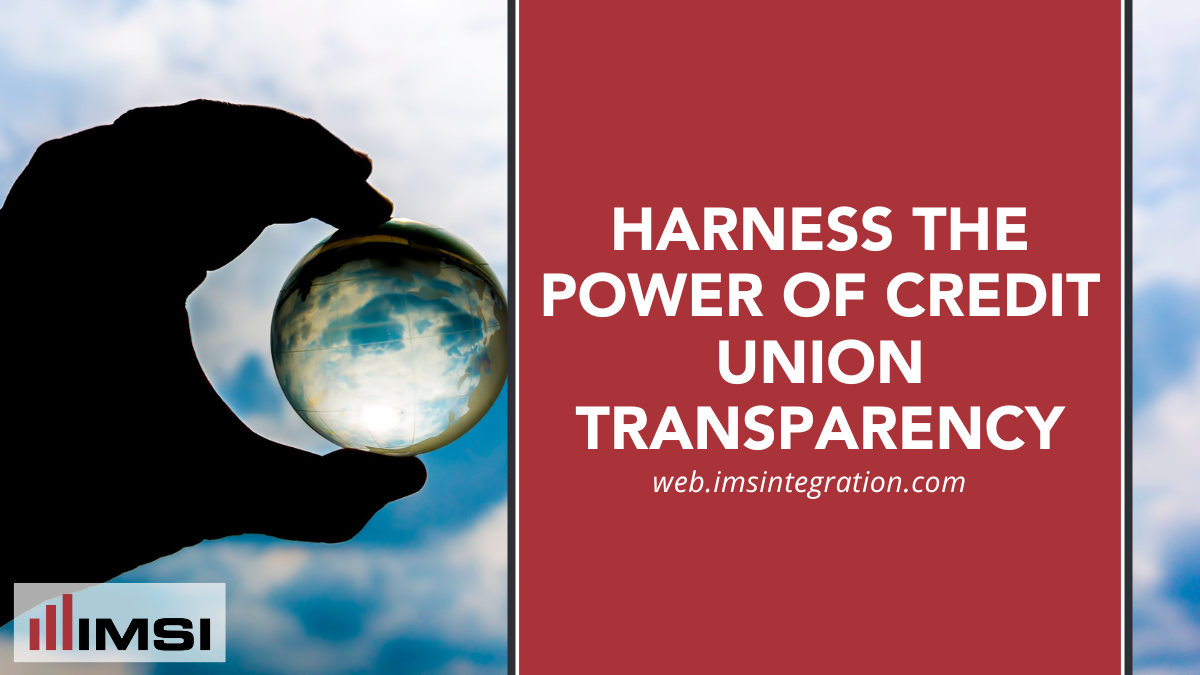 Credit unions are, in many ways, the antithesis of big bank operations. The goal of most credit unions is to integrate with the communities they operate in and help serve and educate their members in a bid to be more accessible than larger, corporate-feeling financial institutions.
At the heart of that differentiation is the transparency credit unions choose to have with their members. There's no need to hide the "secret formula" from the world – a credit union's job is to share the ins and outs of the financial industry with everyone who has a willingness to learn.
Here are some of our favorite ways you can harness the power of credit union transparency.
Why Credit Union Transparency Is So Important
Many professionals make the mistake of thinking that transparency within their business just means being overly honest – you share even the most mundane details about your operations with your members. But that's not it.
When you think of credit union transparency, imagine showing your membership base all of your mission, vision, and values, as well as a demonstrable list of how your credit union is consistently working to meet those goals and embody those core tenants. So, how do you create that transparency and make it authentic and valuable for your members?
Share Your CU's Unique Traits
Credit unions are far more transparent with their business practices than any big bank or other financial institution by virtue of the publication of your credit union's general information. From business plans to quarterly performance and investment success or failure, credit unions are beholden to their members because the business is almost always owned by those members.
Since everyone is given a stake in the credit union and its success, you've already got a great framework for legitimate business transparency.
From there, you can share other unique aspects of your credit union. Do you serve a specific community or industry? Are there other programs that allow your credit union to stand out among the crowd? Lean into these aspects and use them to create a transparent communication line between you and your members.
Financial Education is Key
We are all intrigued when an expert in their field asks something like "Do you want to know my secret?"
Credit unions are the first ones to share their insider expertise with members, and that transparency is one of the most powerful tools in your arsenal.
Cultivating a financial education program (or multiple programs) boost your business transparency while also showing member and non-members alike that you aren't gatekeeping your financial planning knowledge, you are willing and able to share it.
Lending Trust is Waning
Because of predatory student loan practices and payday lending, many of today's borrowers and potential borrowers are very skeptical about the loan process.
Because so many people have seen the negative effect a bad loan can have on someone's livelihood for years or even decades, it's more important than ever to focus your credit union transparency on sharing helpful information about the lending process.
There are many reputable credit unions sourcing and creating loan programs ethically and in a way that benefits both the credit union and the borrower. It's your job to prove to your prospects and your members that you aren't taking part in less-than-reputable lending practices.
Faster and Clearer Transactions
Big words and complicated programs aren't what your members are looking for. They want helpful insights given to them in ways they can understand, and they want to be able to manage their finances quickly and easily.
Impressive technology isn't about creating a complex and intricate solution – it's about creating real change or momentum with as little effort and friction as possible. This is why your communication efforts with your members are so important.
You have hundreds or thousands of people using your services every day. Chances are, they can give you some great insight into what's working and what's not. Make sure those lines of communication are open and easy to access.
Boost Your Credit Union Transparency with Elegant, Member-Facing Solutions
The more you can show your members what you do, the easier it is for them to believe your statements about being transparent. IMS Integration has several member-facing solutions that can boost your credit union transparency, including Online Self Service Forms, Online Courtesy Pay, and Make a Statement.
Communication is a key component of transparency, and IMSI can help you share insights and offer vital resources to your members anytime, anywhere.