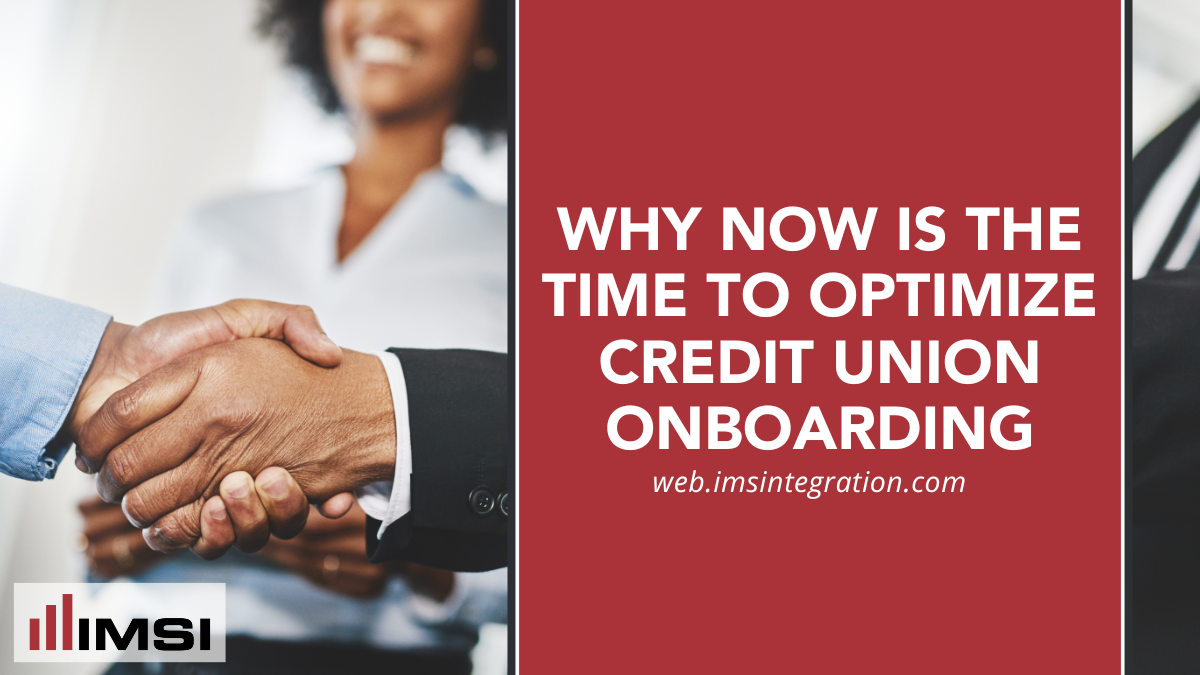 For several years, bank and credit union members and prospects have been asking their branches and their search engines "how to open a bank account online." And with that, member onboarding has been shifting to more digital touchpoints and fewer staff-guided processes.
There are great aspects to these changes, and there are pitfalls. So, let's discuss why now is the time to optimize your credit union onboarding processes.
Improving Digital Account Opening Processes is a Must for 2023
According to a recent article from the Financial Brand, when your credit union creates an easy process to open a bank account online, it has a large positive impact on deposit and loan sales growth.
Mobile banking and frictionless user experience is no longer a luxury that credit unions and other financial institutions can use as "value add" features. Your members expect to be able to open and close accounts, apply for loans, and deposit, transfer, or withdraw funds when and where they want to.
Creating a streamlined credit union onboarding and account opening process should include responsive designs and eliminate keystrokes. The mobile aspect also means there are certain features that should be included. The process often calls for things from data capture and document upload capabilities to smartphone camera access and prompts, touch screen signatures, and location tracking.
The Financial Brand article highlights 5 things a basic credit union onboarding process, specifically the process by which members open a bank account online, needs:
Auto-capture and fill of personal information

Risk and fraud qualifications

Third-party identification verification

Real-time digital fund depositing

Core integration
The article also talks through several additional considerations for the onboarding process, and why these features are essential to your member onboarding and retention rates.
The good news is that many credit unions are finding positive results after streamlining their onboarding processes. About 30% of traditional, big bank members reported that they had trouble trying to open a bank account online, and only 21% of credit union members reported that same difficulty.
Because credit unions have always trended more toward member experience optimization rather than blind digital transformation, the push to streamline the onboarding process is actually a brand reputation enforcer, creating more satisfaction for new and existing members.
Big Ways to Streamline Credit Union Onboarding: Remove the Jargon and Wait Times
Comprehension and accessibility are the most important factors driving the big push for more streamlined credit union onboarding and digital account opening options.
Because digital funds have historically had holds placed on them, from processing times that can be anywhere from 1 to 7 business days to compliance and other authorization requirements, members are tired of waiting to access their money.
The primary method for creating a more streamlined member experience is to grant your members access to the accounts they're creating immediately after the applications are approved.
This doesn't mean they can create an online profile or verify the application approval via digital or physical means. It means being able to log in and start moving money or checking their member account balance as soon as the application is approved.
In fact, the perceived wait time associated with switching banks or establishing a new account is one of the biggest reasons people hesitate to leave their established financial institution, even if they aren't serving their members as well as they should be.
The second big push for streamlining is geared toward comprehension and clarity. Your members are not all finance gurus – they need guidance and succinct descriptions of your services and processes, not jargon-filled language that requires an interpreter to understand.
Cutting the jargon and long-form content from these processes is changing the game for many financial institutions and their onboarding processes, and these things should matter to you. Your credit union is best at serving its members and to do that, you need to be in tune with what industry trends are showing.
The Most Desired Account Opening Features
As with anything in the digital world, trends and preferences change seemingly overnight. Let's discuss some of the features that are convincing people to open a bank account online, as well as the expectations they have of these services.
First, some of the creative ways members and prospects are being driven to open digital accounts include offerings like:
Lower account fees

The cessation of overdraft fees

APR on savings accounts

Early access to deposits, i.e. wages

The ability to access their financial information and funds via a smartphone or other mobile device
And the features they expect to find in your credit union's digital services include:
Direct deposit setup options

Notifications (push and in-app) with application process updates

Access to chats with a live credit union representative

An onboarding checklist or set of instructions that describe the onboarding process and beyond

Continued simplicity of digital banking services
The digital processes your credit union clung to throughout the pandemic likely need a facelift for the new year. Are you ready to start streamlining your credit union onboarding services?
IMSI Is Equipped with User-Friendly Solutions to Open a Bank Account Online
You can make your credit union onboarding easy and hassle-free with IMSI's Online Account Opening – you can sign up new members quickly and easily. Our application offers a streamlined user experience and comprehensive workflow.
And if you are looking for more great premier solutions that integrate with Keystone, take a moment and navigate to the Keystone Solutions tab at the top of the page to explore our related services.