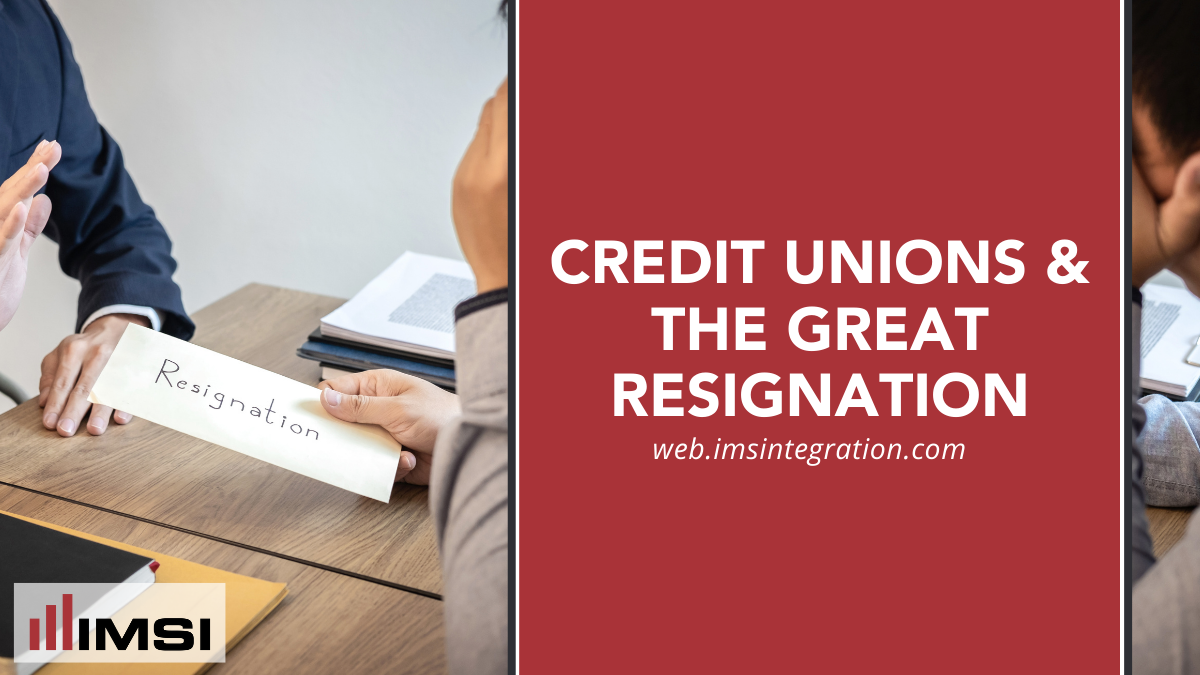 The Great Resignation has not been easy for credit unions. And much like the rest of the country, your credit union must be looking for some explanations and solutions to the problems caused by the Great Resignation.
Your credit union staff is quite often part of the "face" of your CU's brand. And as the Great Resignation and its effects linger, it can reflect poorly on that brand if you are unable to keep your branches staffed well. As inflation and cost of living expenses rise, it is less likely that your credit union is a "bad employer" and more likely that you aren't marketing your positions in an optimal way, among other things.
Let's talk about what the Great Resignation is and how to create targeted solutions to keep credit union staff issues to a minimum.
The Great Resignation: What It Is and What It Taught Us
In 2021, nearly 50 million people left their jobs voluntarily. This number is 12 million higher than the previous year.
What caused this mass exodus? Here are some of the top reasons cited by those who quit:
Burnout (40%)

Organizational changes (34%)

Lack of flexibility (20%)

Instances of discrimination (20%)

Contributions and ideas not being valued (20%)

Insufficient benefits (19%)
The stress from the pandemic – including many companies calling their staff back from remote work to in-office, loss of employees due to COVID, increased responsibilities, etc. – are all contributors to the burnout that many people are feeling in their workplace.
And credit unions are not exempt from these things. Like many businesses, most CUs can't support 100% of their workforce going full-time remote, and it's up to individual institutions to decide how to handle cost of living hikes and inflation issues.
However, when you look at the list of reasons why people are leaving in droves, a lot of it comes down to employees not feeling supported by the businesses they work for and support.
And while this information may seem negative, it's also worth noting that the financial services sector actually experienced the Great Resignation less significantly than other industries. However, the number of resignations is still outweighing the number of new hires, even now, though that trend seems to be slowing the further we get into 2022.
Hiring & Recruiting: Jumpstart Your CU's Search
If you are looking to increase your credit union staff numbers, or you have vacant positions to fill, we've got some tips.
Right now, posting your open positions on your website and your favorite job boards isn't enough to attract the candidates you'll want. Your hiring approach has to be more active.
You can use those same job boards to seek out specific people or to search for individuals who may be gainfully employed but looking for other opportunities. For example, LinkedIn lets people note on their profile if they are open to other job opportunities, even if they aren't actively looking to change jobs.
You also need to expand your search. Though each position may have preferred skills, it's important to seek out and evaluate potential candidates who don't fit all the criteria on your list.
When you think about the ideal person you'd like to fill a specific position, what sort of attributes are most important? Do they need to be personable? Should they have high problem-solving capabilities or be great at written communication? Many of these attributes are tantamount to, say, their experience working in the financial sector, but they are often overlooked until after the interview process has already begun.
Offering sign-on bonuses or other perks including higher wages that are consistent with or better than your area competitors is helpful, too. But these things are only so important to prospects, especially for businesses with staffing issues based on workload, company culture, or other more systemic problems.
Evaluate Your Expenses
Much of the effect of the Great Resignation for credit union staff was seen in the resignation of frontline workers including tellers and other employees who work directly with your members. And while this can be frustrating, it also offers a great opportunity for your credit union to see what improvements can be made to ease the burden on front-facing roles by implementing new processes or investing in new technology.
The Great Resignation is also a great opportunity for your branches to evaluate other expenses. There are likely ways to reduce costs without reducing your staff. For example, IMSI has a host of credit union solutions that take some of the more repetitive or preliminary member-facing tasks and creates online solutions that you can build directly into your CU's website or app offerings.
Web Solutions for Busy CU Leaders
When you are having staffing issues, the last thing you want to do is make things harder for yourself or your current credit union staff. That's why IMSI concentrates on bringing you customized, high-quality solutions for your online forms.
Our online self-service forms can collect information for you and even enable member-led self-service request fulfillment. IMSI can build dozens of forms that can ease the burden on your staff and place some of the power back into your member's hands.
Are you interested in learning more about IMSI's self-service forms? Reach out to us today and request a consultation.