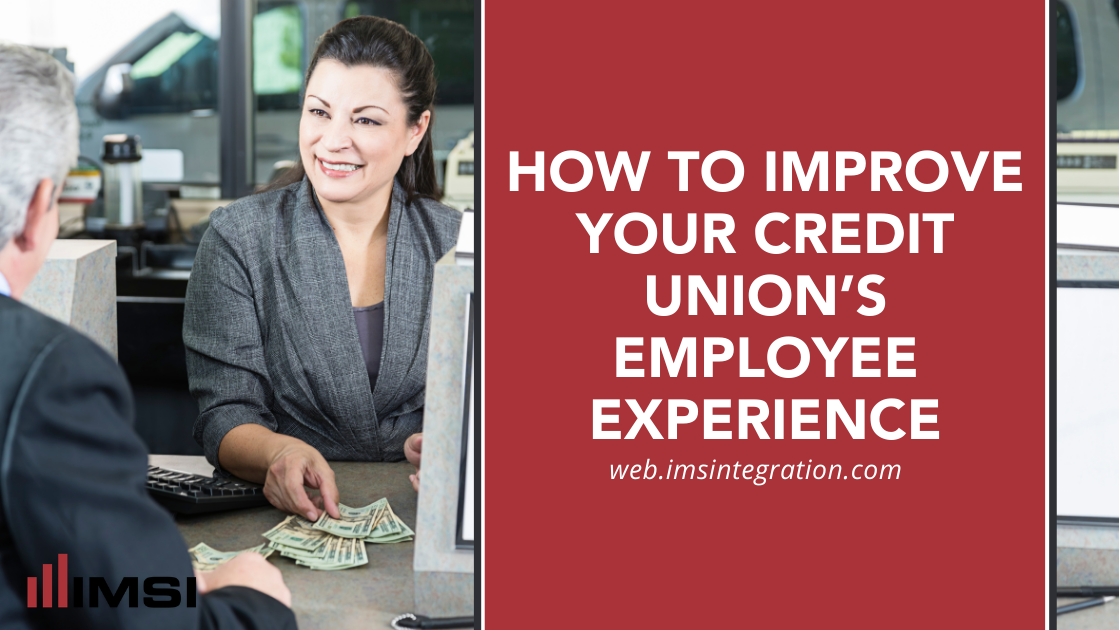 As a credit union leader, you spend a lot of time working on ways to improve the member experience. But what about the employee experience? 
Your employees have taken on the brunt of the chaos of 2020 alongside you and your leadership team in an effort to support your members through the challenges of the year. As we prepare for 2021, it's time to reevaluate how we create the employee experience. 
Build the Company Culture
The best way to improve the employee experience is to build the company culture. 
According to Built In, "Company culture can be defined as a set of shared values, goals, attitudes and practices that characterize an organization." 
By definition, a company's culture is not something you can change overnight because it occurs naturally, whether you are part of that culture. This means that to build the company culture, you must first understand the company culture. Your employees are creating a culture around you, so it's important that you are part of that culture. 
If your company culture does not align with your company's core values, then you and the rest of the leadership team have work to do. Change comes from the top, so if your culture does not align with your values, change starts with you. 
The key to building a company culture starts with living out your company's core values. When your employees see these values in action and they agree with these values, your culture will improve and become healthier. 
Focus on Employee Development
Another way to build your company culture is to provide managerial support and flexibility to your employees. Navy Federal Credit Union does this by prioritizing employee development. This often looks like encouraging employees to pursue their goals and dreams within your credit union, which may include transitioning to different departments and positions, and providing them with the opportunities and training to do so. 
This internal mobility is critical to maintaining employee retention and satisfaction. Employees feel more valued and passionate about their roles with a company when they know that they are not stagnant in their current position. Managers need to encourage employees to dream and make goals – and leadership needs to enable these opportunities. 
Get Personal
Another way you can improve the employee experience is to focus on the little things, such as learning the names of all of your employees and listening to details about their lives. Short conversations can improve the employee experience because when employees feel heard, even if you cannot change a situation for them professionally or personally, they feel valued in both respects. 
Another way you can get personal with your employees is to share stories with them. Humanize yourself with your staff by sharing anecdotes about your professional and personal life – the opportunities are only limited by your comfort zone. But these conversations, in groups or in private, can help you connect with your employees, which can make them feel like they are more of a part of the company.
Depending on your role and your credit union, this may be very challenging if there are silos in your organization. It is up to the leadership team to break down those silos in order to improve the company and employee experience. 
Encourage Feedback
If you're unsure where you stand with your employees or are unsure where to begin to improve the company culture, start with gathering feedback. This can look like anonymous employee surveys, informal group discussions, or personal conversations between yourself and employees or between managers and employees. 
Encouraging and gathering feedback on a consistent basis is critical to improving the employee experience because oftentimes, employees don't want to be a "squeaky wheel." So if your credit union is heavily siloed, start searching for feedback indirectly. Watch for signs of a poor employee experience, including:
Employees showing signs of

burnout

Low retention rates

High rates of sick days

Poor work quality

Regular tardiness

High customer complaints
Identify Biases
Improving the employee experience starts before the hiring process. Leaders must identify their own personal and professional biases, scrap them, and implement changes to the hiring process. This not only helps focus the hiring process on adding value to the culture rather than finding applicants that already fit into the culture, but it also benefits diversity and inclusion efforts. 
According to CUInsight, "By fostering an inclusive culture, we begin to breakdown these biases. Too often we hear about organizations that look to increased diversity as the answer, by hiring diverse talent, without ensuring there is a culture of support and inclusion in place. This sets organizations up for failure in this critical area."
This ongoing process is very intentional. To improve the employee experience for everyone, leaders must hire people who are different than themselves in order to add value to the company as a whole. To only hire applicants that share your personal values is to pigeonhole the credit union and limit its connectivity to the community as a whole. 
Upgrade Your Technology
Another way to improve the employee experience is to upgrade the technology they use to do their jobs. Using the right technology tools and platforms can provide these benefits:
Improve employee collaboration

Save employees time

Improve employee productivity

Optimize the member experience

Improve employee engagement
If you use KeyStone by Corelation in your credit union, then upgrade your technology and streamline the employee experience with our KeyStone Solutions.