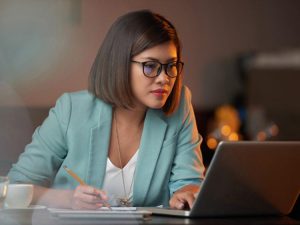 It's important to educate members that skipping a payment means lengthening the life of their loan. Many members make the honest mistake of thinking that they won't need to make up for the skipped payment, so it's crucial that they know the program essentially moves the current month's payment to the end of the loan.
One other point to consider is that although Skip A Pay prevents members from having to use their credit card due to the extra cash they'll have, they will eventually be billed for interest on that month's skipped loan payment. This interest will be paid at the end of the loan terms so this means they'll have to pay a little bit more in interest during the life of the loan.
Make the terms and conditions of the program easy to access in-branch and on your website
Since many members are unfamiliar with the program, it's best to compile "Frequently Asked Questions" or bullet points of the important terms related to Skip A Pay. Here are a few questions that members tend to ask about the program:
How many times can a member request Skip A Pay?

How much is the fee?

When can we apply for Skip A Pay? 

What criteria should we meet to qualify for the program?

The types of loans that are qualify for this program

The length of good payment history (usually at least 6 months)

Other factors
Optimize the sign up process for the Skip A Pay program
Aside from advertising the program by putting up posters or offering brochures in-branch, don't neglect all the space you have on your website. Task your IT and Marketing teams to set up eye-catching banners, write relevant blog articles and social media posts, and include prominent buttons and links to your Skip A Pay signup page. Make sure to test the process thoroughly and ensure the process is as efficient and easy to understand as possible. Always consider that you may have older members who are unfamiliar with online sign up processes.
Conclusion
Grow and improve your credit union's consumer loans by offering Skip A Pay. The usual problem that credit unions have with the program is that it takes time for them to evaluate whether or not a member is qualified. Since each request is unique, it might take longer than the time members are willing to wait to receive an answer. 
With IMSI's Skip A Pay program, requests are made online and the system automatically evaluates members for their eligibility according to your credit union's set parameters. If they are eligible, members are informed immediately. If they are not eligible, employees are notified so they can discuss the reasons and provide alternatives for the member.
Contact us at (541) 752–5500 or info@imsintegration.com to find out how we can help your credit union and your members with Skip A Pay!
Haven't read the first part of the Skip A Pay blog series? Read more at this link.