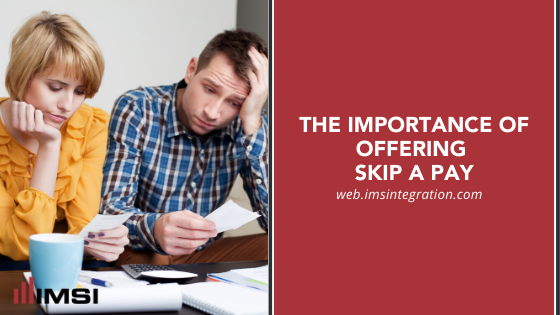 Many Americans are still struggling financially after the last few months of layoffs and shutdowns, some of which are going back into effect after being eased earlier in the summer. 30% of Americans missed their June housing payments – this is up from April's 24%. In these unprecedented times, financial flexibility is a top priority for credit union members. It has never been more important to offer your members a Skip a Pay option.
Many individual financial and housing institutions are offering things like 3 months of forbearance on mortgage payments or paused rent payments for those whose workloads are negatively affected by layoffs and downsizing in this crisis. But smaller debts, like vehicle loans, are not always included in these provisions.
But what is Skip A Pay and why is it important?
What is Skip A Pay?
Skip A Pay is a flexible payment offering that allows credit union members to defer one monthly loan payment in a rolling period, which can be restricted to as little as once every 12 months or as often as every 90 days. Loan payments resume as usual in the month that follows a skipped month. 
The skipped payment amount is tacked on to the end of the loan and extends the time on the loan by one month for each Skip A Pay fulfilled. The loan total is not affected by skipping a payment, but interest does still accrue through the new end date of the loan.
Typically, these loans are eligible for the Skip A Pay option: vehicle and recreational vehicle loans, recreational loans, unsecured personal loans, and more.
The Importance of Skip A Pay
Stalling a single monthly payment doesn't hurt the member's credit score, though overuse can result in higher interest amounts paid over the life of the extended loan. While it is not a good idea for members to make Skip A Pay a habit, it is a great choice for those who need a bit of flexibility in their payments so as to pay other, higher-interest debts when money is tight.
Offering a Skip A Pay option gives members the chance to ride out short term crises with little penalty.
There are also negatives to a Skip A Pay program, for credit unions and their members. If a program is rolled out and it doesn't have a satisfactory evaluation process for eligibility, members who overutilize the option could accrue more debt through the increased interest, and credit unions could have difficulty collecting timely payments if a good schedule for using Skip A Pay is not put in place.
Forgo the Hassle with Skip A Pay
IMS Integration offers a unique approach to setting up a Skip a Pay batch eligibility evaluation process that is customized to your credit union's preferences. The process evaluates loans based on custom criteria set by your credit union and adds notes to eligible and non-eligible loans for ease of processing.
IMS Integration's customized Skip A Pay program could be the solution to your credit union's needs. Contact us to discuss your credit union's software upgrade options.