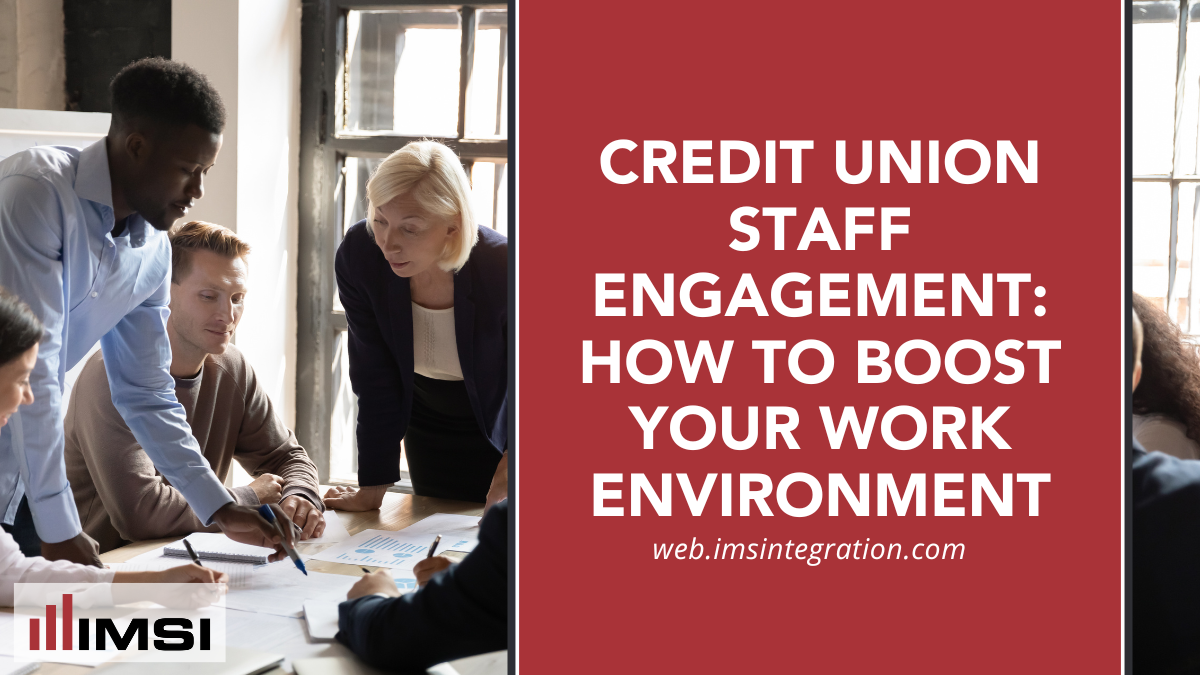 We recently talked about how the Great Resignation is affecting credit unions, and though we've seen a slowdown in the number of people quitting as we move further into 2022, most predictions show we're in for some more hard days before things go back to any "normal" employee turnover rates.
It's important to note that for credit unions, your employee experience and your member experience are inextricably linked. If people like their work environment, the people who pay for and subscribe to that business will be consistently satisfied as well. And since an ounce of prevention is worth a pound of cure, we wanted to share some of the ways you can boost your work environment and company culture through credit union staff engagement.
Start with Unbiased Data
No matter how amazing your credit union's work environment is, your staff members may not always feel comfortable telling you the harsh truths – especially when those harsh truths could be seen as criticism.
To be able to create and improve credit union staff engagement, you need to have a way to collect honest (and typically anonymous) feedback about current and past efforts and issues.
Third-party engagement surveys can help you collect unbiased data. By putting the effort in to distance your management and executive leaders from the survey process, you will be able to collect more constructive feedback. Many survey providers even aggregate and sort your data and feedback.
This gives you a great place to start when you are considering which engagement strategies you want to implement.
Once you have received the data from your survey provider, you can include your staff in the discussion about how you want to move forward. Many employees around the country skip or disregard surveys sent out by their employers because they assume that nothing substantial will come of the feedback. Others are afraid they may say something that will get them in hot water with management later.
The collection of and discussion about how your staff feels about the engagement requirements and opportunities is a great way for you to show them you value their opinions and input. You can build trust by taking action when your employees come to you with concerns, rather than just dismissing issues with comments like "The management team is discussing how to best move forward" or "If you have questions or concerns, talk to your supervisor."
That transparency needs to come from both the CU leaders and the employees. Engagement goes up when your employees feel like they're part of a work environment that encourages feedback and does something to address the common problems people are facing.
Mix Up Your Engagement Efforts
If your idea of engagement is to have a pizza party or ice cream social every month or quarter, it's time to rethink your strategy. Your staff has spent the past few years living and working in COVID's America – people are tired, stressed, and restless – and it's not enough to just add a few more "Casual Dress Fridays" to the calendar and call it a day.
CreditUnions.com shared an article including some of the ways different US branches have been spicing up their engagement strategies and events.
Here are a few of our favorites mentioned in the article:
Employee awards and recognition boards (both branch-specific and credit union-wide): you can create polls or solicit feedback about employee efforts. Did someone jump in to assist another staff member when things were hectic? Is there a go-to person who is always willing to help plan events or engage more with your members? Employees love to be recognized, but it has to be genuine.

Sponsor yoga or other fitness sessions or stress-relief classes

Using technology to reward your employees – using a corporate DoorDash account to deliver free lunches to remote teams, paying for Instacart groceries. There was even a credit union that bought the ingredients for a meal that the staff then cooked together via Zoom.
Another great way to mix things up is to use your community outreach to help your employees' favorite causes. Charitable efforts that go to national organizations are great, but what fundraisers and philanthropic groups are based in the towns your branches do business in? Every month, you could let your employees choose a cause that is dear to them, and then extend some outreach efforts or pledge donations to these smaller, but more meaningful, charities.
Foster Credit Union Staff Engagement with the "Build, Buzz, Bake" Method
Another recent article, this one from CU Management, shared a unique perspective on company culture and how to create change that sticks in your credit union work environment.
Employee engagement and your credit union's culture are two sides of the same coin. The "build, buzz, bake" framework is perfect for credit unions because your staff is already more invested in your business than other employees in the financial and banking industries. Many employees are stakeholders, and your credit union's success is also their personal and professional success.
According to the article, the build phase is all about the prep work. To engage your employees, you have to give them a vision or inspiration that gets them excited. This inspiring idea can be specific or broad, but it must be unifying. For example, maybe sustainability and eco-friendly initiatives are gaining popularity, and this can be the theme that drives your engagement efforts. Or it can be something small or temporary, like creating a Community Discovery summer program where you partner with local businesses to boost engagement for members, staff, and the community.
Next is the buzz phase. A quick email outlining the new company culture or engagement project isn't enough. You have to generate some excitement and momentum.
Set aside time to converse with your staff about the new initiative. What inspires them to want to participate? What stops them from wanting to participate? This can help you tailor events and meetings that increase credit union staff engagement.
And the final phase is to bake. Credit unions are primed for creating and sustaining great and powerful company culture, you just have to allow your employees the space to explore and interact. Whatever your new or improved direction is, once you've gotten some buzz going, you need to continue feeding into that culture so the positive aspects of it grow and become second nature.
Streamline Complex Functions with Infuzion – IMSI's Powerful New Tool
Another tip for staff engagement involves leveraging technology to keep menial tasks to a minimum. IMSI's Infuzion tool allows you to streamline complex functions without developing scripts or building Java.
You can run rapid file search queries, batch file inputs, and script modifications, which can free up your staff members to work with members, develop new product lines or marketing campaigns, and do other strategic work that fosters growth for your credit union.
Contact us today to learn more about how Infuzion and Keystone solutions can help increase productivity and credit union staff engagement.